CRICS Home-based Learning
We have had some great conversations today with principals, department heads, and with you through your survey responses about what all of us (students, parents, and teachers) need for home-based learning to work. Since we are no longer in a temporary situation, here is a list of the critical guidelines we are asking each member of the CRICS community to follow carefully to best support our students, parents, and teachers as we embrace home-based learning as our new "normal". 
NEEDED FROM PARENTS
Parent Guideline #1: Care for your child's holistic health. Set limits, provide good food, encourage, love, learn with them at times... all the things God made you to do so well. If your child has been doing focused and dedicated work for a long time, then expect them to take a break or maybe stop for the day if they have worked long enough (see Student Expectation #1 for details). Do not overdo it during this already stressful time.
Parent Guideline #2: Help your student plan the day for success. These are still actual school days, and structure is needed. School time should be dedicated and focused in a quiet workplace with set work times and break times. Please help your students to set those time and assignment goals and consider a celebration or reward when the goals are achieved. We would encourage you to follow the school schedule,  to create your own schedule or to ask advice from a family that has homeschooled before and been successful. Our strength is in Jesus and in our community. Call upon both for help.
Parent Guideline #3: Help your student to ask for help. Encourage them to email their teacher, and when helpful, you can email the teachers also. We are eager to assist you!
NEEDED FROM STUDENTS
Student Guideline #1: Students must commit to a school day of academic work or they cannot be successful in home-based learning. What students are being asked to do each day should not be viewed as "homework," but rather school work. For example, Elementary should dedicate around 2-4 hours per day, Middle School 3-5 hours per day, and High School 5-8 hours per day on average. At higher grade levels, this daily work should be compared to the combination of class time and homework time from a regular, on-campus school day. If your student is working beyond the hours per day ranges listed above, then consider stopping where you are and emailing the teacher about your situation. You might not be the only one struggling or you might need some help from the teacher to succeed. You need to wisely choose when to push yourself harder to develop grit and when you are beyond what is reasonable for a student at your level. 
Student Guideline #2: Follow a schedule to complete and turn in all assignments. Many students are doing assignments when they feel like doing them and that is leading to procrastination, missed due dates, and failure to complete some assignments. There has been grace for these problems during the trial period, but students must be able to turn in assignments on time by the end of this week (April 3). Set times and goals during the day. Complete each day's work, and check that all assignments are complete using Google Classroom or other communication methods.
Student Guideline #3: Ask for help. Many students are frustrated or confused but unwilling to comment with or to email their teacher. Please read and reread the directions, and if you still do not understand it, then ask for help when you need it. If you can have patience with us, then we will respond as soon as possible. 
NEEDED FROM TEACHERS
Teacher Guideline #1: Assignments will be posted by 8:00 AM or scheduled for the next school day. All assignments that are due on the next day should be posted by 8:00 AM on the previous day.
Teacher Expectation #2: Teachers will respond to parents and students by the end of the next school day. Please expect teachers to take an entire day to reply, and please do not expect teachers to reply to emails and messages over the weekend.
Teacher Expectation #3: Teachers will submit a reduced assignment or cancel a class if they are overworked and unable to complete their duties as expected. Right now, many teachers are overworked and it cannot continue like this. Our teachers must guard their holistic health by making space to do both self-care, family-care, and quality school work, even if that means missing a class. Better 4 days of quality instruction and assignments from a healthy teacher, than 5 days with a struggling or hurt teacher acting below their potential. 
The critical guidelines above will be our road map to quality, Christian, family-oriented learning for the remainder of quarter 4. Please follow them carefully. If we work at this together, then I believe that we will see more meaningful education for our students and more joy for our community.
These are hard times marked by constant and uncontrollable change and loss. We are all hurting to some degree. But, these are not times to quit or withdraw. These are times to draw together and to serve each other. At CRICS, our strength has always been in Jesus and in our family community. Despite all that has changed, these two truths remain the same. Jesus is our loving King and we are still moving forward together.
Jesus and each other... Call on both now. Trust in both now.
Confident in Jesus and in us,
Troy and CRICS Leadership
From an email entitled "An Important Change" on March 20, 2020.
Bumps and Beauty
I appreciate your kind grace for all our teachers and staff during these days of transitions. I know that our students and teachers are figuring out how this process works. There have been and will be some bumps, but I am thankful for everyone's determination to work with and for each other. Our ability to come together when things get hard is what makes our community beautiful.
As everything seems to be changing each hour, this process has been hard to follow for many of us.  Following the closing of school on Tuesday, some of our teachers learned of expectations and needs that would require a more immediate return to their home countries.  In addition, as of today, many countries are encouraging their citizens abroad to return as quickly as possible. Practically this means that more than ten of our present teachers feel that they need to leave within the next two weeks to return to their families, much earlier than planned for summer break.  We have released them to go while asking them to finish their responsibilities for home-based schooling for their students.
An important Change
Unfortunately, since many teachers are not able to return after spring break, we would be greatly hindered in our ability to continue "normal", on-campus schooling to finish the 4th quarter.  In addition, the expectations from the Thai government for the coming weeks will require social distancing in all institutions and relationships.  We believe that it is highly likely that the government will not allow us to return to school on our campus after spring break. For these reasons, the leadership team at CRICS and the CRICS Governing Board has agreed that we will not plan for having school on campus after spring break.  We are asking all our teachers to continue working with us to finish all of what needs to be completed for the 4th quarter following the home-based learning initiated on Wednesday of this week that initially only went until spring break. 
Part of the consideration for the immediacy of this decision is to allow both teachers and families the freedom to immediately plan for how each family will spend the next three months of their lives in this changing environment.  Many of our expat teachers and families believe that Chiang Rai is the best place for their family right now. Others have plans for this summer and may feel released to go early. We are praying that all families will have God's wisdom in discerning what they should do right now. 
What Will Continue?
I have been watching the news as you have, and I realize that some of you are wondering how long this will last.  Our present plan is to resume school in August as scheduled. Our teachers who were planning to be a part of the 2020-21 school year still plan to be ready to teach in August.  We are praying and planning to weather this storm and return to "normal" CRICS life in August 2020. 
For the present, essential services like receiving transcripts and teachers' visas will continue.  The school is available for teachers and staff to work from CRICS until further notice. 
During times like this, it is important to continue communicating well.  If your family is returning to your home country, please email your principal for instructions on returning textbooks and library books as well as chrome books.
Also, please continue with home-based schooling for the next two weeks as planned.  In the coming week, we will communicate more about what home-based schooling will look like following spring break.  Thanks for understanding our need for planning as we consider how to finish the 4th quarter.  All CRICS teachers, near and abroad, have committed to helping your students finish well.
Graduates
We are considering what celebrating our graduates looks like during this unusual time.  If you have an idea, please share this with us. And please pray for our seniors. This situation has created much loss for them in particular.
A Final Prayer
"May the peace of the Lord Christ go with you, wherever he may send you.  May he guide you through the wilderness. Protect you through the storm. May he bring you home rejoicing at the wonders he has shown you.  May he bring you home rejoicing once again into our doors." (an old Irish prayer). 
I can't wait for our families to be back on our campus again together.
Peace of Christ,
Brent Pennington
On behalf of CRICS Leadership Team and CRICS Board
อุปสรรคและความงาม
ผมขอขอบพระคุณที่ท่านมีความเข้าใจในสถานการณ์ในปัจจุบันของโรงเรียนและการทำงานของครูและบุคลากรในโรงเรียนในช่วงนี้เป็นอย่างดี ผมรู้ว่านักเรียนและครูของเรากำลังหาวิธีเพื่อให้การทำงานในขั้นตอนนี้เป็นไปด้วยความราบรื่น ซึ่งแน่นอนว่ามันย่อมมีปัญหาอุปสรรคบ้าง แต่ผมรู้สึกขอขอบคุณในความมุ่งมั่นของทุกคนที่จะทำงานร่วมกันและเพื่อกันและกัน นับว่าเป็นความงามอย่างหนึ่งของชุมชนของเราที่สามารถรวมตัวกันต่อสู้เมื่อเผชิญหน้ากับปัญหาอุปสรรคต่างๆ
ในเวลาที่ดูเหมือนว่าทุกอย่างจะเปลี่ยนไปทุกชั่วโมง  วิธีการแก้ปัญหาที่เราได้วางไว้ดูเหมือนว่าเป็นเรื่องค่อนข้างยากสำหรับใครหลายคนที่จะทำตาม  หลังจากมีคำสั่งให้ปิดโรงเรียนในวันอังคารที่ผ่านมา ครูของเราบางคนได้รับรู้ความคาดหวังและความจำเป็นที่จะต้องเดินทางกลับประเทศบ้านเกิดในทันที นอกจากนั้น ณ วันนี้หลายประเทศได้แนะนำให้ประชาชนที่อาศัยอยู่ในต่างประเทศเดินทางกลับโดยเร็วที่สุด ในทางปฏิบัติ นี่หมายความว่าครูของเรามากกว่าสิบคนรู้สึกว่าพวกเขาต้องออกเดินทางภายในสองสัปดาห์ข้างหน้านี้เพื่อกลับไปหาครอบครัวของพวกเขาเร็วกว่าที่ได้วางแผนไว้ว่าจะกลับช่วงปิดเรียนภาคฤดูร้อน เราได้อนุญาตให้คุณครูที่มีความประสงค์จะเดินทางกลับก่อนกำหนดกลับบ้านได้แต่ขอให้ทำหน้าที่ตามความรับผิดชอบในการสอนนักเรียนต่อไปโดยเป็นการสอนทางไกลให้กับนักเรียน
การเปลี่ยนแปลงที่สำคัญ
เป็นที่น่าเสียดายที่คุณครูหลายท่านไม่สามารถกลับมาหลังจากหยุดช่วงสงกรานต์ได้  ดังนั้นการจะทำตามแผนเดิมจึงมีอุปสรรคอย่างมากในการดำเนินการเรียนการสอนตาม " ปกติ" ที่โรงเรียนจนจบไตรมาสที่ 4  นอกจากนี้ในช่วง 2-3 สัปดาห์ต่อจากนี้ รัฐบาลไทยได้มีคำสั่งให้ทุกสถาบันหยุดทุกกิจกรรมที่มีการรวมตัวกันของคนหมู่มาก เราเชื่อว่ามีโอกาสสูงที่รัฐบาลจะไม่อนุญาตให้โรงเรียนมีกิจกรรมการเรียนการสอนภายในโรงเรียนหลังจากวันหยุดช่วงสงกรานต์ ด้วยเหตุผลเหล่านี้คณะผู้บริหารของ และคณะกรรมการฝ่ายปกครองจึงได้เห็นพ้องร่วมกันว่าเราจะไม่มีกิจกรรมการเรียนการสอนภายในโรงเรียน หลังจากหยุดช่วงสงกรานต์   เราได้ขอให้คุณครูทุกท่านทำงานต่อไปจนกว่าจะสิ้นปีการศึกษาโดยใช้การศึกษาทางไกลที่ใช้ฐานปฏิบัติการที่บ้านแทนตามที่ได้เคยประชุมกันแล้วเบื้องต้นเมื่อวันพุธที่ผ่านมา ซึ่งตอนนั้นได้วางแผนไว้ว่าจะสอนจากที่บ้านเป็นเวลา 2 สัปดาห์และจะกลับมาสอนในโรงเรียนอีกครั้งหลังวันหยุดช่วงสงกรานต์
ส่วนหนึ่งของการพิจารณาถึงการตัดสินใจด่วนในครั้งนี้คือการอนุญาตให้ทั้งครูและครอบครัวของนักเรียนมีอิสระในการวางแผนอย่างกะทันหันว่าแต่ละครอบครัวจะใช้ชีวิตในอีก 3 เดือนข้างหน้าในสถานการณ์ที่เปลี่ยนแปลงตลอดเวลานี้อย่างไร ครูและครอบครัวชาวต่างชาติหลายครอบครัวเชื่อว่าเชียงรายเป็นสถานที่ที่ดีที่สุดสำหรับครอบครัวในขณะนี้ แต่หลายคนได้วางแผนสำหรับฤดูร้อนนี้ไว้แล้วและอาจรู้สึกว่าต้องเดินทางเร็วกว่ากำหนด   เราอธิษฐานขอให้ทุกครอบครัวมีสติปัญญาจากพระเจ้าในการมองเห็นสิ่งที่พวกเขาควรทำในตอนนี้
จะทำอะไรต่อ?
ผมได้เฝ้าติดตามดูข่าวเช่นเดียวกับคุณ  และผมรู้ว่าพวกคุณบางคนคงสงสัยว่าสถานการณ์แบบนี้จะกินเวลานานแค่ไหน แผน ณ ขณะนี้ของเราก็คือการเปิดเรียนอีกครั้งในเดือนสิงหาคมตามตารางสอนประจำปี   ครูของเราที่วางแผนจะสอนในปีการศึกษา 2020-2021 จะยังคงวางแผนที่จะมาสอนในเดือนสิงหาคม เรากำลังอธิษฐานและวางแผนที่จะฝ่าฟันพายุนี้และกลับเข้าสู่ชีวิตปกติที่โรงเรียน "CRICS" ในเดือนสิงหาคม 2020
สำหรับปัจจุบัน  บริการที่จำเป็น เช่น การรับใบรับรองผลการเรียนและวีซ่าของครูจะดำเนินต่อไป ครูและเจ้าหน้าที่ยังสามารถเข้ามาทำงานที่โรงเรียนได้  จนกว่าจะมีประกาศเป็นอื่น
ในช่วงเวลาเช่นนี้ สิ่งสำคัญคือการสื่อสารอย่างต่อเนื่อง หากครอบครัวของท่านกำลังวางแผนเดินทางกลับประเทศบ้านเกิด กรุณาส่งอีเมลถึงอาจารย์ใหญ่ตามระดับชั้นของบุตรหลานท่านเพื่อรับคำแนะนำเกี่ยวกับการคืนหนังสือเรียนและคืนหนังสือห้องสมุดรวมถึงเครื่องโครมบุ๊ค
นอกจากนี้ โปรดดำเนินการเรียนการสอนที่บ้านต่อไปอีกสองสัปดาห์ตามแผน ในสัปดาห์ที่จะถึงนี้โรงเรียนจะสื่อสารเพิ่มเติมเกี่ยวกับการเรียนการสอนที่บ้านจะทำในลักษณะไหนหลังจากการช่วงสงกรานต์ ทางโรงเรียนขอขอบคุณที่เข้าใจและเห็นความจำเป็นในการวางแผนว่าจะดำเนินการอย่างไรต่อไปจนว่าจะเสร็จสิ้นไตรมาสที่ 4   คุณครูของเราทุกคนทั้งที่อยู่ในประเทศและต่างประเทศต่างมุ่งมั่นที่จะให้การช่วยเหลือแก่นักเรียนของเราให้ประสบความสำเร็จเป็นไปด้วยดี
 ผู้สำเร็จการศึกษา
เรากำลังพิจารณาว่าจะจัดพิธีฉลองผู้สำเร็จการศึกษาอย่างไรในสถานการณ์ที่ไม่ปกติเช่นนี้ หากท่านมีความคิดเห็นอย่างไร ท่านสามารถแสดงความคิดเห็นได้ และขอให้ท่านอธิษฐานเผื่อนักเรียนชั้น ม.6 ของเรา สถานการณ์เช่นนี้ทำให้นักเรียนที่จะสำเร็จการศึกษาในปีนี้สูญเสียโอกาสหลายอย่าง   
 คำอธิษฐานปิดท้าย
" ขอให้สันติสุขขององค์พระคริสต์จงมีแด่ท่าน ไม่ว่าท่านจะเดินทางไปที่แห่งใดก็ตาม ขอให้เพระองค์ทรงนำทางของท่านผ่านถิ่นทุรกันดาร ปกป้องท่านเมื่อต้องผ่านพายุร้าย ขอให้พระองค์ทรงนำพาท่านกลับบ้านด้วยใจชื่นชมยินดีในการอัศจรรย์ที่พระองค์ทรงได้ทรงสำแดงแก่ท่าน   ขอให้พระองค์ทรงนำท่านกลับบ้านด้วยใจชื่นชมยินดีอีกครั้ง" (คำอธิษฐานของชาวไอริชสมัยโบราณ)
ผมรอวันที่เราจะได้กลับมาพบกันอีกครั้งที่โรงเรียน CRICS 
สันติสุขในพระคริสต์
นาย เบรนต์  เพนนิงตัน
ในนามของคณะผู้บริหารและคณะกรรมการโรงเรียน CRICS
Government officials spoke tonight (March 16, 2020) and suggested further restrictions on schools. The information available to us suggests that all schools will be required to close in an attempt to slow the spread of the Coronavirus.
We encourage everyone in our community to plan that tomorrow, Tuesday, March 17 will be the last day that students are on campus for the foreseeable future.
CRICS will be closed from Wednesday, March 18 until the government allows us to reopen to students.
Teachers and administrators will be working with students tomorrow, Tuesday, to prep them to go home and learning off-campus. Over the next two days, teachers will plan to communicate with your students about how to continue learning from home. Students are expected to continue their studies according to teacher instructions.
This will be difficult for all of us, and we understand that you have many questions. But, we ask that you wait until teachers can communicate to you the best way to move forward in each class before asking questions by email.
There is a temptation here to feel that things are broken or that we are losing something or missing out, but we are believing in God's faithfulness that even this closure is for our good and that there are gifts to be found in this uncertain season.
Be encouraged. God is at work!
Most of us think, "Yes, it is working!" The following graphs are feedback from a survey on March 23.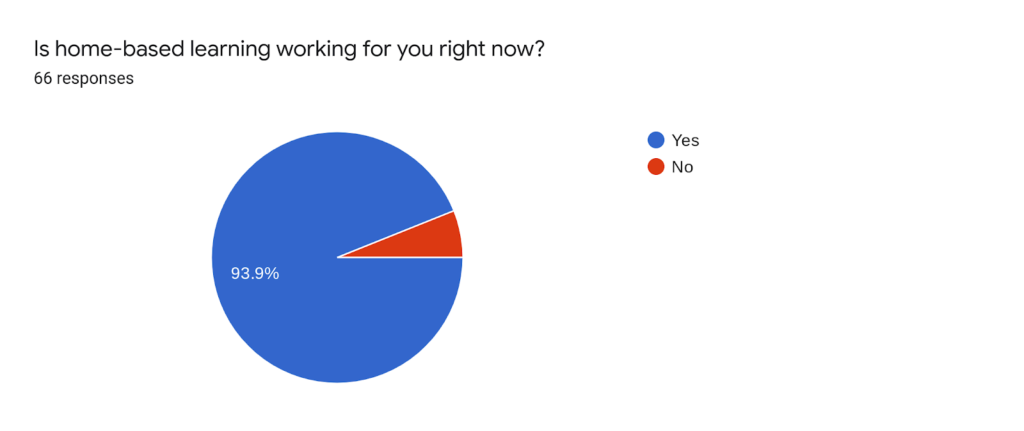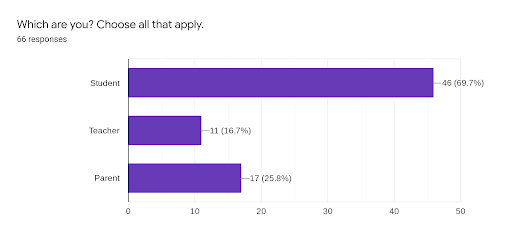 Work with your student to contact your teacher(s) through Google Classroom. Use the specific assignment or posting to leave a comment.

Email your teacher directly. You can find all teacher emails in the

Teacher Emails by Grade Level

sheet.
Everyone is new to this almost-school-but-not-and-almost-homeschool-but-not thing that we are calling home-based learning so here are so possibly helpful suggestions from our staff at CRICS
Be generous with yourself and others. Perfect is impossible. Expect failure. Accept failure. And then move forward.

Communicate more not less. With teachers, with other parents, with you kids, ask questions and listen

Don't fix every problem. Kids often already know what to do. They just need to be heard. This also applies to your spouse. *wink wink*

Create a routine and use it with rare and meaningful changes to that routine. Consider making your schedule together with your family.

A bored kid is not broken. Much greatness has come on the latter end of boredom. Sometimes that "greatness" is conflict resolution, but still, important stuff.

Prioritize language arts and math above other subjects if you must choose.

Encourage social interaction that is respectful at this time: video chats (Marco Polo, Google Hangouts Meet, etc.), messaging (LINE, Facebook Messenger, Screencastify), make a digital gift (Google Drawing, Google Presentation, Card making sites,...), send photos of art or physical challenges to friends and ask that they respond! Have fun!

Do not overdo schooling in a day.

Celebrate positive effort and attitude: "You looked like you were working hard!" "I noticed that you did 15 minutes of math without stopping!" "I loved doing this with you because you were so willing to try again even when it was hard." "I want to celebrate how hard you worked. What do you want to do for 10 minutes?" Do not focus on how "smart" a child is or their "good" grades. Focus on what they need to repeatedly do to grow and improve: keep trying, give their best.

Take care of yourself and your people: Rest. Sleep. Shower. Lock the bedroom door for 10 minutes. It's OK. We do it too.

Sing in the shower, dance, cry, hide under the air conditioner as you cuddle with you air purifier. Make space to be crazy. Crazy people are often very health. 

Pray believing that a Father who would allow His Son to doie for you will also listen to you now when you call out to Him. The only person who loves your children more than you is God, the Father; God, the Son; and God, the Holy Spirit. Remind yourself of this often and take generosity steps forward
No, I am STAYING in Thailand until August.
Then just keep your home-based learning supplies (Textbooks and Chromebooks) until campus reopens this summer. You can drop off the resources at the library after classes close for the summer. Thank you for taking good care of them for the next students who will need them at CRICS.
Yes, I am LEAVING Thailand, but I will BE BACK BEFORE SCHOOL STARTS in August. 
Then just keep your home-based learning supplies (Textbooks and Chromebooks) until you return and the campus has reopened. Thank you for taking good care of them for the next students who will need them at CRICS. If you are done with a resource or need to return them for any reason before you leave, then please drop your textbooks at the library's book drop and your Chromebook at the IT Shop (C203) for repairs or check-in.
Yes, I am LEAVING Thailand, and I will NOT BE BACK BEFORE SCHOOL STARTS or I am not returning to CRICS at all.
Then please drop your textbooks at the library's book drop and your Chromebook at the IT Shop for check-in. We encourage you to contact your principal now to consider creative solutions to allow your children to finish quarter 4, but we do not want to lose our valuable educational resources. Again, contacting a principal is your best next step, but please do not leave Thailand with school learning supplies.